The Princeton Symphony Orchestra (PSO) and The College of New Jersey (TCNJ) are thrilled to announce their partnership for the 2013-2014 performance season. This exciting and new collaboration acts to broaden audiences and educational opportunities in our community. Together, PSO and TCNJ believe that classical music serves as a window to history, a vehicle for community engagement, and an important tool for the development of creativity in all aspects of our lives.
Dean John Laughton comments, "We are thrilled to join with Princeton Symphony Orchestra as we at the College of New Jersey expand our mission of community engagement and education. Both organizations share a commitment to the importance of orchestral and chamber music as important tools for historical understanding and social engagement."
Founded in 1980, the Princeton Symphony Orchestra has evolved from a small yet highly respected community-based chamber orchestra into a professional orchestra of the highest artistic quality. Offering orchestral, pops, and chamber music concerts, as well as lecture events, children's programs, and innovative collaborative programming, the orchestra is Princeton's hub for classical music knowledge, a gateway to the greater Princeton cultural community, and a means of connecting with like-minded music enthusiasts. Music Director Rossen Milanov continues to take the orchestra to new artistic heights, and 2013 marks his 5th year as director.
PSO Executive Director Melanie Clarke summarizes PSO's enthusiasm for this new venture, "Rossen Milanov, PSO's music director, joins me to say how excited and honored we are to present highlights of the Princeton Symphony Orchestra's 2013-2014 season at the gorgeous Mildren and Ernest E. Mayo Concert Hall on the campus of TCNJ. We are delighted to have the opportunity to extend PSO's geographic reach to Ewing, Lawrenceville and Bucks County and to be present on a campus known for its highly motivated and curious students.  Mayo Hall is a gem – stately and intimate, each seat having unusual proximity to the stage, making it ideally suited to a live performance experience.  With the partnership of TCNJ's outstanding performing arts faculty, we are eager to engage TCNJ audiences in pre and post-concert events that will make each concert experience memorable.
The College of New Jersey (TCNJ) is a highly selective institution that has earned national recognition for its commitment to excellence. Founded in 1855 as the New Jersey State Normal School, TCNJ has become an exemplar of the best in public higher education and is consistently acknowledged as one of the top comprehensive colleges in the nation. The School of the Arts and Communication at TCNJ educates students in their disciplines and serves an advocate for the arts and communication by engaging the campus and larger community. They cultivate social inclusiveness, intellectual curiosity, technical mastery, disciplinary fluency, and an appreciation of the transformative power of creativity. They provide a foundation of core skills to prepare students for diverse and evolving opportunities.
Three concerts are planned for this upcoming season at The College of New Jersey. Pre and post performance receptions and audience talk-backs with the performers will be announced. The concert schedule is as follows:
PSO Chamber Series
Momenta In Motion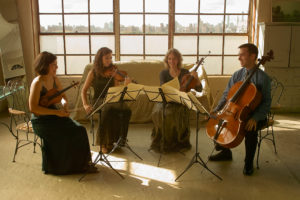 Momenta Quartet
Thursday, January 23, 2014, 8 pm
Mayo Concert Hall, Music Building
Works by Claude Debussy, Tomas Luis de Victoria, Agusten Fernandez
Emilie-Ann Gendron and Adda Kridler, violins; Stephanie Griffin, viola; Michael Haas, cello
A Pulitzer Partita* and More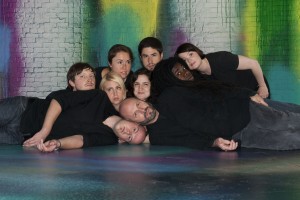 Roomful of Teeth – a vocal ensemble
Thursday, March 6, 2014, 8 pm
Mayo Concert Hall, Music Building
Works by Caroline Shaw, William Brittelle, Merrill Garbus, Brad Wells and others
Brad Wells, Director
Esteli Gomez, Martha Cluver, Caroline Shaw, Virginia Warnken, Eric Dudley, Avery Griffin, Dashon Burton, and Cameron Beauchamp
Congratulations to Roomful of Teeth on their recent Grammy win! Nominated in three separate categories, the group won a 2014 Grammy Award for Best Chamber Music/Small Group Ensemble.
*2013 Pulitzer Prize-winning piece – Caroline Shaw, composer
PSO Concert Series
Classical Series: Nights and Dreams
Saturday, March 29, 2014, 8 pm*
Mayo Concert Hall, Music Building
*7:00 pm pre-curtain lecture with Music Director Rossen Milanov, composer Julian Grant, and Dean of TCNJ School of the Arts and Communication, Dr. John Laughton. 
Works by Grant (Dances in the Dark), Britten (Serenade for Tenor, Horn, and Strings), and Berlioz (Symphonie fantastique). This program is being presented as a preview performance for the Sunday, March 30 premier of local composer Julian Grant's Dances in the Dark in Richardson Auditorium on the campus of Princeton University.